Vorlagenseite

Story
Stollwerck chooses the ERP system Prodin
Optimization of the IT-Landscape: Prodin versus SAP
Baronie had two options for standardizing the IT systems: implementing SAP in the Baronie IT process or introducing the Prodin ERP system to Stollwerck, which has been meeting Baronie's requirements successfully for twenty years.
Since the BASIS partner PRODIN Business Solutions has extensive experience with analysis and optimization of business processes as well as proven experience with SAP, the company was asked to provide an analysis of the delta between processes and systems. During this process, it was discovered that the previous Prodin P2-solution could only have facilitated the processes with a significant cost-intensive effort and individual programming. On the other hand, it was nearly impossible to reduce the complexity of SAP so that Baronie could have worked with SAP as well.
After a long and careful process, Baronie, therefore, chose a third option: The newest version of the Prodin ERP system, Prodin P3, was selected to be the core of the new IT landscape for both Stollwerck and Baronie.
Successful Replacement of SAP under a Tight Schedule
After this decision had been made, the PRODIN Business Solutions team started work in February 2012 and was able to achieve a complete replacement of SAP by the end of the year. The following data illustrates the challenges of this task: Stollwerck processes about 120,000 customer orders each year, two-thirds of which are based on EDI. About 700,000 pallets of chocolate leave the production plants each year. Stollwerck delivers to nearly all of the large retail chain stores in Europe, in addition to customers in the US and Australia, either directly from the production plant or from a distribution center with a total of 75,000 temperature-controlled palette warehouse locations. The transition affected 300 SAP users in three countries at seven different locations.
Prior to the replacement, Stollwerk worked in all production plants and warehouses in Germany, France, and Belgium with a combination of SAP version 4.6 and a separately developed software for price and condition management for German retail. SAP was used for inventory management, production planning, quality management, sales/CRM, Business Data Warehouse, and finance.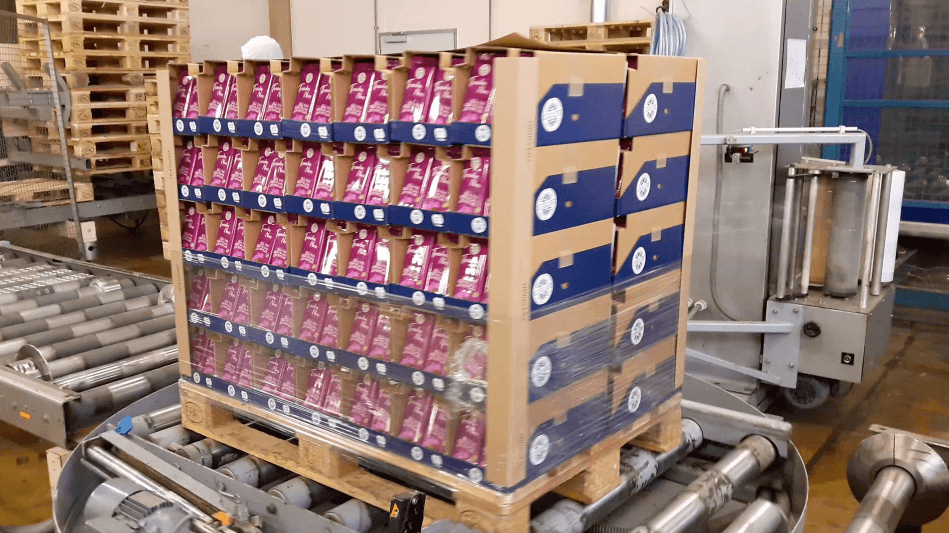 All of the Reproduced Core Functions
All of the core functions of SAP were reproduced with Prodin: Finance and accounting, purchasing, material management, sales, distribution, shipment to the customer and within the business group, and all associated EDI processes. Prodin's efficient project management was central to the success of this project.
To complete the IT landscape, Prodin also had to create complex interfaces for several third-party software solutions. For example, for demand forecasting in production planning, payroll accounting as well as for Lotus Notes, which Stollwerck uses for product development and for email management.
The professional services team of BASIS Europe was there in the background to support Prodin with the software installation and with solutions for their questions.
Newly Integrated: Demand Planning and External Logistics Service Providers
After the successful installation of the Prodin ERP system in 2012, the new modules for demand forecasting, production planning, and for traceability required for quality management were also integrated. Additionally, the PRODIN Business Solutions developed a new customized solution for condition management for the German retail sector.
In other projects, PRODIN facilitated the transition to new third-party logistics service providers as well as location changes for their distribution centers. A focus in recent years has been on solutions in warehouse management, from user-friendly scanner solutions to the control of warehouse management systems, including automatically controlled high-bay warehouses.
PRODIN Business Solutions was founded in 1975 and has been a BASIS partner since 1989. PRODIN develops, sells, implements, and maintains ERP solutions and is especially useful for small and medium-sized companies in sales, services, and industry. They support production and assembly processes (customer order and series production), retail and wholesale as well as service and maintenance. In 2003, PRODIN received the SAP Innovation Award for the application of SAP NetWeaver technology for their client, Royal Schelde. Special modules, such as CRM or the mobile solution "Prodin Business Workplace," used by maintenance and service technicians for local applications, complete the offerings. PRODIN is a state-of-the-art solution with a large customer base in many European countries.
Stollwerck was founded in 1839 and is known for their selection of chocolates and candy remembered by the taste buds of nearly all Germans, young and old. One of Germany's oldest chocolate factories has turned into a top international business. They represent the tradition, innovation, and skill in creating chocolates with a strong brand on the international stage. Stollwerck has been a part of the Baronie group since 2011.
The privately run Baronie group produces a large variety of chocolate products for international customers. Baronie has ten production locations in Belgium, the Netherlands, Germany, and Switzerland with a 150,000-ton production capacity. Their facility in Belgium houses a modern logistics center for warehousing and co-packing activities. Co-packing has made Baronie a strategic partner for important European retail chains who are able to retail products carrying their own brand and the Baronie trademark branded products.