Vorlagenseite

Story
Paperless management of nursing homes

and senior home care
Tried and tested: Touchscreens for care documentation
Modern care facilities rely more and more on mobile devices in their work routines. The easy, intuitive use of touchscreens has led HEIMBAS to introduce touchscreen terminals for the rooms and corridors in care facilities. Caregivers use these to enter all care tasks immediately into the home's documentation system with a few taps.
Before a nurse or aide enters a room, they activate the terminal outside the door with a connection pin which they carry – similar to systems are used in other sectors, such as gastronomy. The screen tells them immediately which tasks need to be performed.
These are then documented with just a few taps as soon as the caregiver leaves the room. This is convenient and efficient: No need to search high and low for a working pen, no forms to fill which can be lost, no illegible handwriting; nothing that needs to be documented is forgotten or written down incorrectly from memory.
Once the data has been captured, the caregiver removes the connection pin from the terminal, thus logging out automatically. The resident's private details displayed on the screen disappear.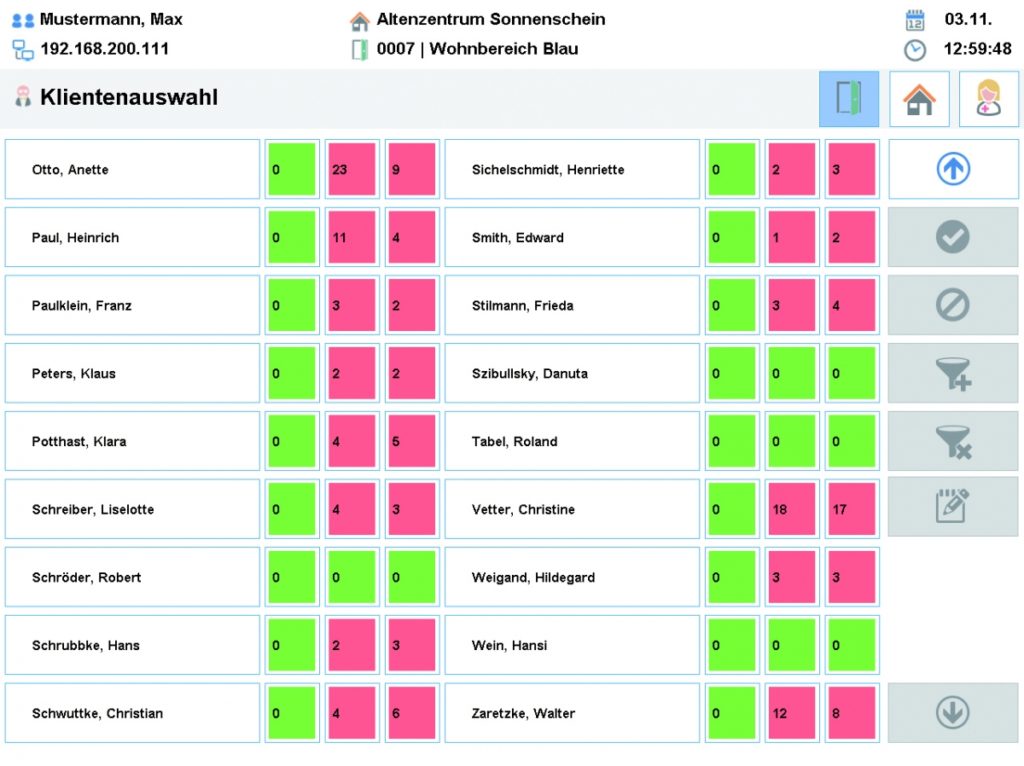 Mobile: All HEIMBAS solutions are available as web applications
Care terminals were a great success for HEIMBAS because they saved nursing homes a lot of time and significantly improved the care documentation. A number of HEIMBAS clients then asked for the next logical solution: Staff should be able to access residents' data virtually anywhere, not just on their desktop PC, with the aim of further optimizing resident-centered care.
HEIMBAS, therefore, implemented their solutions as mobile apps which can be used on all devices with a web browser. These solutions include Care Manager, Home Manager, Home Care Manager, and Roster Manager.
Efficient: The electronic resident file
All relevant resident details are stored in the electronic resident file and can be accessed immediately by all authorized employees of the home. This avoids entry errors and redundancies and ensures seamless transfer across different media. In addition, electronic data is easier to verify and track than paper records.
Useful: All relevant resident details are immediately available for everybody
Whether they are needed on the admission of a new resident or during ward rounds: HEIMBAS software allows immediate access to all relevant details. Staff can record important data, such as drug allergies and pre-existing conditions, together with the personal details upon admission. Nurses and doctors can have a look at the temperature chart during the ward round and, for example, give instructions for changes in treatment right there and then. These changes are immediately available in the system in real time. There is only one point at which data transfer is not seamless: Just as it has always done, the law demands that prescriptions must be signed by hand, even though capturing signatures digitally on a tablet is no longer a technical problem.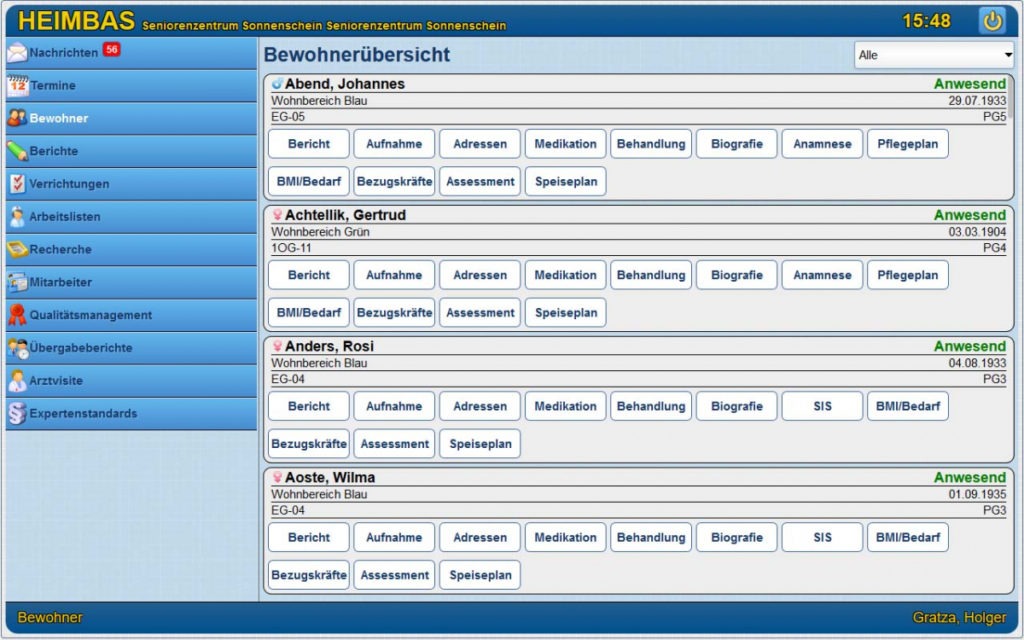 An additional solution: Route planning for home care services
HEIMBAS offers additional smartphone and tablet app solutions for home care service providers. The route planner, for instance, enables home care services to arrive in time for client visits without organization and travel times getting out of hand. There is even an option to show a calculation of each visit's economic result.
Customer orientation: Mobile apps developed with BASIS tools
HEIMBAS has used BASIS development tools for its application software since 1988 and started to enable their solutions for mobile devices very soon thereafter. "Our customers are used to platform independence", explains Managing Director Armin Kehler, "They have always been able, and still can, run HEIMBAS apps on any server or device." That's why we have been relying on the BASIS' BBj software for mobile functionality right from the start; simply because it can execute the same source code in the JVM and any other Javascript/HTML5 enabled device." HEIMBAS was able to base the web solution on the existing software, which meant that the team needed only 30 project days to move it from conception to market-ready implementation – "right on schedule", says a delighted Kehler.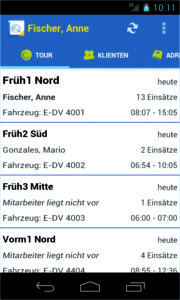 BASIS Partner: HEIMBAS
HEIMBAS GmbH has more than 700 customers and is one of the leaders in the German software market for residential care and nursing homes. They have used BASIS development tools for their application software from as early as 1988. Founded in 1973, the company was one of the first to offer an integrated ERP solution for care and nursing homes. Modules included administration, billing, accounting, care documentation, and roster management. The product was christened HEIMBAS. Soon it became the company's primary solution, leading Managing Director Armin Kehler to rename the business after the product in order to make it more recognizable.
HEIMBAS is now one of the leading software products in the care industry, offering solutions for senior home and nursing care, and assisted-living facilities. In addition to care and documentation processes, HEIMBAS solutions are also used for commercial management functions. Everything, from development to installation, comes from one source and database. HEIMBAS has specialized in offering solutions for elder care and support facilities for disabled, young and vulnerable persons. HEIMBAS aims to produce flexible and expandable solutions that are tailored to customers' needs – be they duty rosters, care documentation, administration, or finance.
HEIMBAS focuses on apps for smartphones and tablets since the mobile updating of care documentation is so time-efficient. Duty rosters can be managed, shift notes logged, and working time accounts, and vacation schedules can be consulted. Families also benefit because they are given a sense of being part of the team looking after their loved ones.