Apps for customer acquisition in the auto trade
Apps for customer service: Small sparks make a big impact
A whole series of apps help make the job of Stam's sales and service staff easier so they can do it better. This does not have to be complicated, as the examples below illustrate:
Customer acquisition via the app: Employees walk around town entering the registration number of parked cars into an app (see Figure 1), which sends them to Stam's customer database. The employee then puts a discount coupon for a first workshop visit underneath the windshield wiper of any car not found in the database. The vehicle is flagged immediately in the system to ensure that it is not given another coupon by mistake.
WhatsApp or text messages alert customers whenever a service or DOT inspection is due, when summer tires need to be changed to winter ones, or when their car is ready to be picked up from the garage. Both customer and company benefit from these messages: The customer's car is safe to drive, and the company's workshop capacity is fully utilized.
Undeliverable email: Mailer Daemon sends a delivery failure notice to the account manager, who will then reach out to the customer and ask for the correct email details.
Customer satisfaction analysis: Billing sends the day's invoice data to the accounting software nightly, which then generates an automatic email to customers with a questionnaire asking for specific feedback based on car make and model, date of workshop visit, etc. The aggregated customer feedback is presented to management in the form of iReport tables.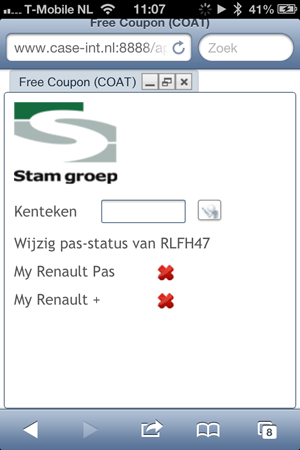 Optimization of back-office processes and management information
The work CASE undertook for Stam did not stop at the direct communication processes with customers and prospects. A lot also happens behind the scenes. In particular, the various processes, number of required devices, and BBj licenses needed from BASIS have been optimized. Staff can now complete tasks efficiently, without needing to switch back and forth between different applications and different devices.
Providing management with company information has become much easier. The BASIS business intelligence digital dashboard and customized iReports can be accessed from any device and at any time.
Mobile data capture in the stockroom
CASE has implemented a solution for scanning barcodes via a smartphone or tablet in Stam Group's spare part stockrooms. The scanned data is immediately exchanged with the ERP system. This saves the stockroom staff time and prevents entry errors because they no longer type 15-digit part numbers whenever they process orders, pick items from the stockroom, or during inventory.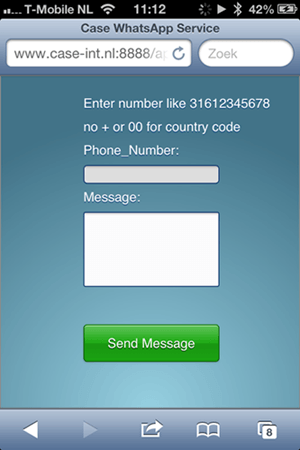 A look behind the scenes at BASIS partner CASE TM
Being able to access data from mobile devices is becoming increasingly crucial for businesses. Kees Gerritsen, Managing Director of CASE TM, therefore, sees growth opportunities for his company not only outside his existing customer base but also beyond the relatively small market in the Netherlands. Gerritsen believes there are many advantages in working with BASIS' development software: "We have found that using BASIS tools and the Eclipse IDE is absolutely perfect for applying modern teamwork concepts, such as agile software development. It has enabled us to drastically reduce project duration times and work more efficiently than ever before. The fact that BBj applications can normally be localized to new markets is obviously a great help."
The family-owned Stam Group was founded in 1910 as a repair workshop. It now runs car dealerships (Renault, Dacia, and Alpine), workshops, filling stations, as well as a leasing company and an insurance agency in the Utrecht region. In keeping with the company motto "neither regret the past nor fear the future", Stam has always been an early adopter of new technologies in order to communicate better with their customers. The company was one of the first to introduce computer technology as early as 1972, with the aim of making its business processes more transparent and offer customers better service.
BASIS partner: CASE-TM
CASE TM in Nieuwegein has been a BASIS partner since 1993. It looks after the IT requirements of SMEs in various industries, ranging from car dealerships to healthcare. The ten-strong team, headed by company founder and Managing Director Kees Gerritsen, serves nearly 500 customers in the Netherlands and neighboring countries.
» All these Apps do have a common Aim: we want that the Stam Group is always one crucial step  faster with the customer than the competitor «